Farm and Land Loans That Pay You Back
We are returning $13.1 million of our 2022 net income to farmers and rural landowners in central and south Alabama. Cash-back patronage checks will be mailed on March 23, 2023, and will be in the hands of the member-borrowers shortly.
For the past 17 years, as a financial cooperative, we have shared our success through the cash-back patronage program. We have returned more than $123 million to eligible member-borrowers since 2006. You can credit this to the Board of Directors' long-term capital management plan that prioritizes market interest rates and consistent patronage payouts while managing capital conservatively.
This is money that has gone into the pockets of local farmers and rural landowners to invest in their operations and families and to spend in their local communities.
"Alabama Ag Credit's strong financial results have allowed us to again return a significant portion of our net earnings to borrowers through the cash-back patronage program. The cooperative model means we are motivated to maximize the value cooperative members receive, not profits for investors like other financial institutions," Doug Thiessen, President and CEO.

This year's cash-back patronage is more than 100 basis points – or a return of just over 1% of the interest borrowers paid in 2022.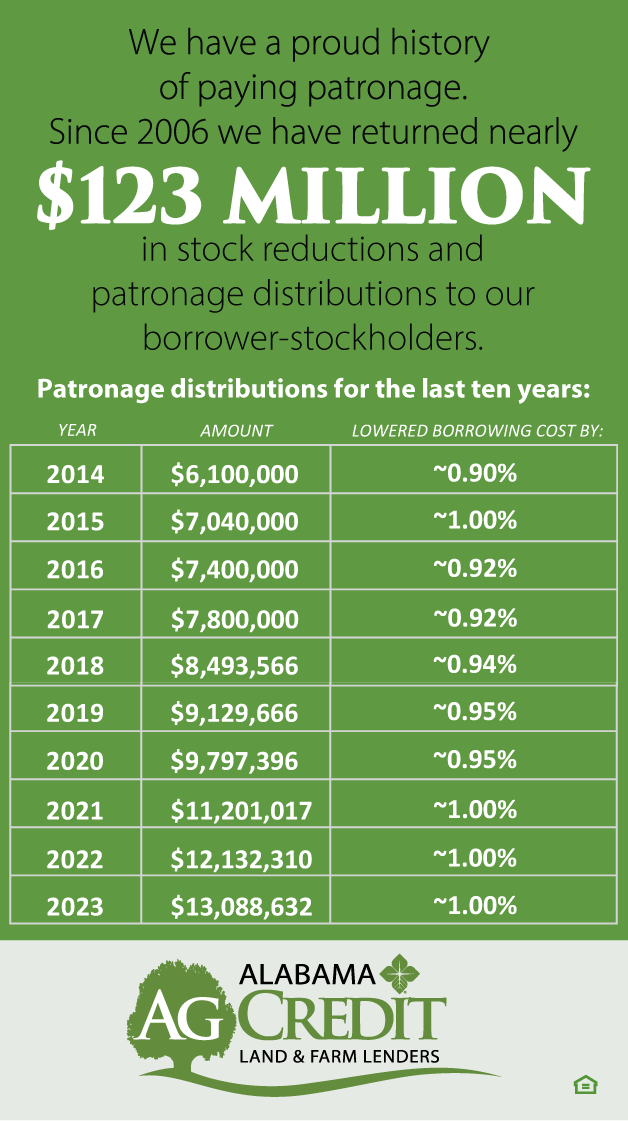 The financial results discussed here are preliminary and unaudited. Please visit AlabamaAgCredit.com this spring to see our complete results.