With roots as deep as they are old, Alabama Ag Credit traces its history of rural mortgage financing back more than a century. As the years passed, we grew to serve 40 counties in Central and South Alabama, and expanded our services to provide a full array of financing for farms, timber and forestry operations, rural real estate, agribusinesses, equipment and livestock.
Our customer-owned cooperative is part of the nationwide Farm Credit System, which was established over a hundred years ago to meet the need for dependable, consistent credit and financial services for agriculture and rural communities.
In the early 1900s, commercial lenders considered agriculture to be a large risk. Interest rates were high, and long-term financing for farmers and ranchers was scarce.
After studying the problem, private and government commissions recommended a system of credit cooperatives.
The Federal Farm Loan Act of 1916 planted the seeds of Farm Credit, establishing district banks, known as Federal Land Banks, to provide funds to local, farmer-owned mortgage lending cooperatives. It was followed by the Agricultural Credits Act of 1923, which added Federal Intermediate Credit Banks (FICBs) to meet farmers' and ranchers' need for short-term credit.
During the Great Depression, more laws improved agriculture's access to credit. One provided millions of dollars in capital to the Land Banks. Another revamped the FICBs and established locally owned Production Credit Associations.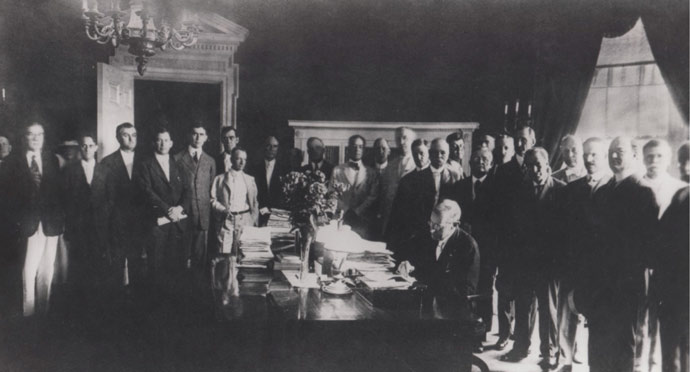 As producers discovered the benefits of doing business with a financing cooperative they owned — and that truly cared about their success — Farm Credit became the trusted financial partner of generations of rural Americans. By 1968, Farm Credit institutions had repaid their federal capital debt and were completely owned by their borrowers.
The Farm Credit Act of 1971, along with amendments in 1980, expanded Farm Credit's services to include rural home mortgages, leasing services and rural utility financing.
During the 1980s, when another economic downturn strained American agriculture, new legislation led to a leaner, stronger Farm Credit System. The results included two new corporations — one to manage the sale of the bonds that fund Farm Credit's loans, and another to administer an insurance fund and collect premiums from the lenders. During this era, associations that had specialized in long-term or short-term lending began merging to become full-service Agricultural Credit Associations.
In 1990-91, Congress asked Farm Credit to play a greater role in financing agricultural marketing and processing, as well as financing water and sewer development in rural communities.
Throughout its history, Farm Credit has pursued a mission to ensure that creditworthy agricultural producers, agribusinesses, and rural homeowners and landowners have access to sound, dependable funding.
The cooperative credit system has stood the test of time. Today, Alabama Ag Credit and other Farm Credit co-ops remain an important part of the fabric of rural America and a partner to the nation's agricultural sector.