Breaking the Grass Ceiling
Posed as Superman on top of a pallet of Zoysia grass, Wayne Bassett greeted his brother, Jimmy. A self-proclaimed entertainer, Wayne was eager to help Jimmy show off the 1800-acre sod farm and tree nursery they purchased in 1994. At that time, Jimmy was a banker and Wayne was a marketing graduate working for a sod company. When searching for ways to tame their entrepreneurial spirits, the two decided to venture into becoming true beginning farmers after hearing about the opportunity to purchase Beck's Turf.
Beck's Turf, which started in 1938 in Tuskegee, AL, is the oldest Zoysia farm in the United States. In its early stages, Beck's Turf sold slabs and sprigs of grass in burlap bags and shipped them to customers through the postal service. From there, the company quickly grew to large production levels. Out of necessity, Dr. Beck invented many types of turf equipment. When the brothers purchased the farm, they were fortunate to also acquire most of the infrastructure needed to continue and grow the business, but they still lacked knowledge of the sod industry.
Beginning to Seasoned Farmer
According to the Bassetts, being a beginning farmer has its challenges. Two of the largest are access to capital and agricultural knowledge. Working in commercial banking, Jimmy thought it would be easy to access the capital they needed to get started, but that wasn't the case. "Through one obstacle after another, we were fortunate to talk with a Farm Credit lender," stated Jimmy. "They understood our business plan and had the products and knowledge we needed to get started. We wouldn't be here without them, and we've put our trust in them ever since."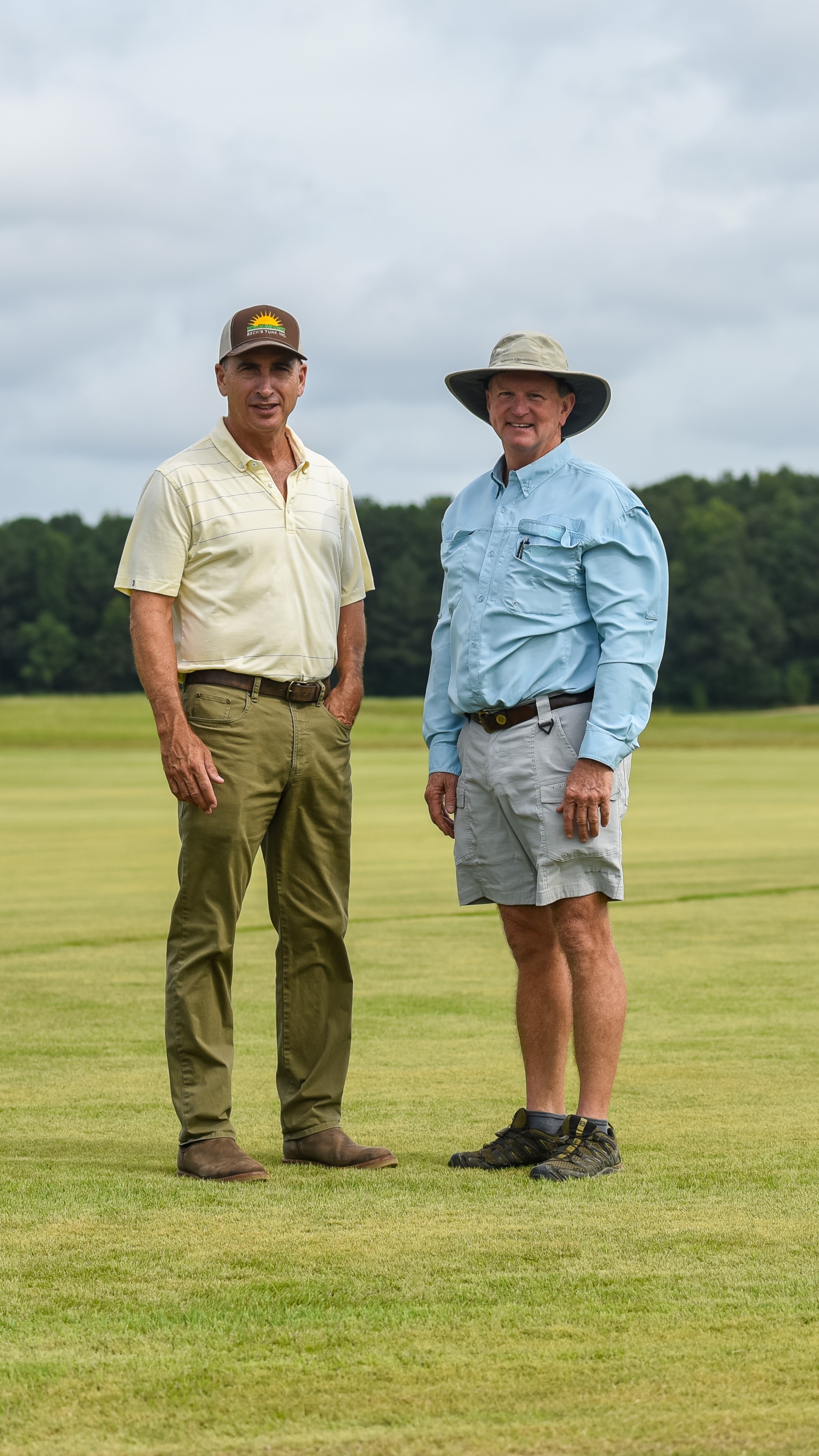 When it comes to agricultural knowledge, the brothers both worked summer jobs at cattle farms mending fences, hauling hay, and working cattle. However, both admitted that 25 years ago they had no clue where to start. Eager to learn, they soaked in the knowledge they gleaned from Auburn University's turfgrass professors as well as from the Alabama Turfgrass Association. Both brothers credit their 40 employees for the success of the company. Many are well-versed and experienced in the industry and have been with the company longer than the Bassetts.
Overcoming Challenges
Now, after more than 25 years in the business, Jimmy and Wayne Bassett are seasoned farmers who have seen their share of ups and downs. Like with other horticultural farming operations, much of their success or failure depends on weather and pest management. But unlike other industries, there is no crop insurance for sod. One of their worst years was during the 2007 drought when they struggled to keep the grass alive. The drought set them up for an even more challenging time when the economy crashed in 2008. While many of their competitors went out of business or had to transition to row crop farming, their planning and diversification kept them afloat. Today, their biggest challenges come from the lack of available labor — which has changed tremendously over the last 25 years. "The caliber of employees has increased, as individuals must be willing to do the labor while having the ability to operate new technology," explained Wayne. "And even though we've been able to increase the pay over time, workers are harder to find now more than ever."
The brothers have participated in the U.S. Citizenship and Immigration Service's H-2A program for a few years now. It has been a "lifesaver in providing labor on the farm while bridging the employment gap," Wayne adds.
The gap has also been improved with technology over the past few years. Some of their harvest machines have been upgraded to run off GPS and automate the counting and stacking process, reducing harvest crew sizes. Mowers have also improved with multiple rotary blades, and some machines that have the ability to run autonomously.
Efficiency and Diversification
Beck's Turf prides itself on having a quick turnaround time. All sod harvested on the farm is cut, stacked, loaded, delivered, and laid at the site within 24 hours. To provide such a quick turnaround, Beck's Turf utilizes its own trucking crew. These drivers pick up pallets from one of their five locations and deliver them within a 150-mile radius. The Bassetts believe this service is crucial to controlling costs and setting them apart from their competition.
The Bassetts also operate a nursery called The Wildlife Group, which ships nationwide. The group grows and sells nut and fruit trees for permanent food plots. This division of Beck's Turf began in 2006 and has helped diversify the operation, along with a small timber tract.
As they look toward the future, the Alabama Ag Credit customers are proud of the past and hopeful for the future. Plans to diversify further are in the air but slowing down isn't. "I'm not sure if we'll ever stop working on the farm," said Jimmy, former Alabama Ag Credit board chair. "Maybe one day an eager employee will want to take it over, but for now we'll just keep enjoying each day."
Anyone can buy from Beck's Turf - www.BecksTurf.com - 800-288-4291Varieties Available: Centipede, Emerald Zoysia, Myers Zoysia, 419 Bermuda, Celebration Bermuda