Throughout the last few months, a lot of water has been dumped on residents across south Alabama, causing historic flooding and a path of destruction. As an Alabama agricultural cooperative who understands the devastation, Alabama Ag Credit actively helped the Gulf Coast with relief efforts.
Hurricane Sally, which directly impacted the association's members and employees, was our top concern. Relief efforts for this hurricane involved 57 pallets of water, which equated to 1,596 to each of three main donation sites; Red Cross of Alabama, Foley United Methodist Church, and Feeding the Gulf Coast. Additional water was also given to Flowerwood nursery. Upon request, a truck of fruit was also delivered to Feeding the Gulf Coast. Clean bottled water is one of the largest requests after a hurricane strikes, as flooding can easily contaminate the public water supply as water treatment plants may not be operating when the power in the area goes out.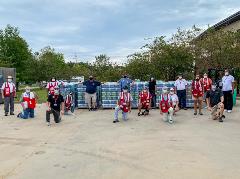 In addition, Alabama Ag Credit donated $25,000 to the Alabama Farmers Agriculture Foundation (AFAF) Hurricane Sally Relief Fund. The fund is accepting applications through Nov. 30 from farmers who suffered losses related to Hurricane Sally. "When disaster strikes, I am always impressed by the people of Alabama and their giving spirits," Alabama Farmers Federation President Jimmy Parnell said. "As we started receiving photos of damaged crops, barns, and equipment, we also started getting questions from people about what they could do to help our farmers, and that's why we've established this fund."
Hurricane Laura & Delta also hit the Gulf Coast; we donated $5,000 to the Red Cross to help those in West Louisiana and East Texas who were affected by these storms. As part of the Farm Credit Bank of Texas network, our association has several friends and colleagues that were in the path of this storm. From an agricultural standpoint, sugar cane and timber seem to have been the most affected by flooding and winds. Most other row crops had already been harvested, and there was little cattle loss from reports by the Louisiana ag extension system.