A Letter From the CEO
We Rise Up, Together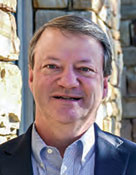 The pandemic has reinforced one character trait I have, and that is I need to be around people. I have missed the in-person social interactions with you dearly, as my spirit is uplifted by our conversations and sharing of life events. Similarly, I know this pandemic has been difficult for all of you too. What we know to be true is difficulties bring awareness to the needs we have. But they also create opportunities for us to rise above them.
I know I am biased, but our borrowers rise to the occasion every day. You are agricultural producers and enthusiasts of the rural lifestyle. When a neighbor is in need, you lend a hand, provide a meal, share an encouraging word, or give a hug. When you are asked to produce more to feed, clothe or shelter the nation or world, you invent new ways to deliver innovative ag practices while conserving precious resources. You find a way to rise above.

This unifying spirit of teamwork and common purpose is what makes agriculture and rural living special and unique. Furthermore, it is the foundation of Alabama Ag Credit and the reason we exist.
As your rural lending cooperative, our team members have worked extra hours and creatively taken steps to meet your financing needs during a time when there is no normal. Additionally, they delivered meals and bottled water to customers and health care providers, donated to funds supporting agricultural operations and charities, and volunteered their time and services. Our team finds a way to rise above.
We are here for you just as you are for each other. Those of us who work in the agriculture industry or live in rural Alabama will do what we have always done. We will come together. We will rise up. And we will be better for it.
One day soon, we will all join in those social interactions we used to have. Until then, thank you for the things you do to make life better and for doing business with Alabama Ag Credit.

Douglas Thiessen
Chief Executive Officer