A Letter From the CEO
Alabama Ag Credit Goes to Washington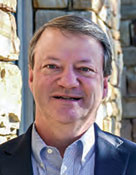 In 1939, one of my favorite all-time movies was made. The movie was "Mr. Smith Goes to Washington" and starred James "Jimmy" Stewart who played Jefferson Smith. Smith is a young naive man who is appointed to the U.S. Senate and finds that life in Washington, D.C., is filled with challenges for which he is not prepared. Yet, he chooses to take a very public stand for what he believes is right and good.
While that was a movie, our structure of government demands that all of us follow in the footsteps of Mr. Smith and make our voices heard in Washington. This past summer, myself and a team of directors, borrowers and employees went to Washington to represent your interests and concerns on Capitol Hill. Our group was part of a large Farm Credit contingent — nearly 750 people from across the country — telling the Farm Credit story and speaking up for agriculture.
The entire Farm Credit delegation heard from U.S. Secretary of Agriculture Sonny Perdue and held discussions with members of the House Agriculture Committee. Then, our own delegation met specifically with legislators from Alabama and their staff members, including Sens. Richard Shelby and Doug Jones as well as Reps. Bradley Byrne, Martha Roby and Mike Rogers. These one-on-one visits allowed the Alabama Ag Credit delegates to discuss matters like trade and the USMCA trade agreement, rural broadband and infrastructure, and other topics that impact farmers in our area.

You'll read in our Landscapes Magazine about the farmers who helped to tell Alabama's story while in D.C. One couple, the Holladays, participated in our Young Leaders Program, spoke to our delegates during the visits and learned more about how Farm Credit functions. The other farmer, Jonathan Tharpe, provided his homegrown Alabama peas to be given away to Hill officials and staff during a marketplace reception in the Library of Congress. These young farmers made a definite impact on those in our nation's capital.

While we can't all visit Capitol Hill, there are other ways you too can advocate for policy affecting Alabama farmers and Farm Credit associations such as ourselves.
One of the easiest is to use the Farm Credit digital tool that allows you to send a message to your members of Congress. Simply text "AG" to 52886 on your cellphone or visit FarmCredit.com/TakeAction. By doing so, you will be notified when important policy needs action; then, with a click of a button, you can email your policymakers showing your support and letting them know how we support farmers, ranchers and rural infrastructure providers in good times and bad.

Matters like trade policy affect the ability of farmers, ranchers and timber growers to stay in business and feed our nation. Federal policy also affects Farm Credit's ability to provide dependable and competitive credit to agriculture and rural America. It's important that we tell that story.

As a cooperative, Alabama Ag Credit is committed to looking out for our members' interests and concerns in the policy and legislative arenas. We will continue to speak up for agriculture and rural America at every opportunity, and we urge you to do so, too.

Douglas Thiessen
Chief Executive Officer