A Letter From the CEO
Innovation exists in agriculture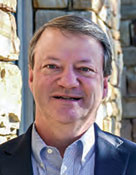 Steve Jobs, co-founder of Apple, was quoted as saying "Innovation is the ability to see change as an opportunity — not a threat." Mr. Jobs passed away about 10 years ago, but because he sincerely believed in innovation, his legacy is manifest all around us today. If you use an iPhone or any Apple products, you know what I am talking about.
Because most Americans do not work in agriculture, innovation throughout this industry is not always as evident to the broader population. As a result, many of our elected officials as well as business and community leaders may not be able to tell the story of innovation in agriculture. That is why it is important that you and I do.

Today, we see robotics and drones, GPS-guided equipment, sensors and satellites that drive artificial intelligence capabilities, and on and on. Farmers are being asked to produce more to feed a growing world population while needing to do it more efficiently and sustainably to survive. And they are doing it in big and small ways every day.
In our latest magazine, Landscapes, you'll read about Wade Helms, one of our customers who invented a piece of equipment that enables him to strip-till and plant at the same time. This results in a reduction of costs by reducing the number of times a tractor pulls an implement across a field. That means less carbon emissions and better soil management as he produces his crops. It's a win-win for all of us.
Wade's efforts have won him a much-deserved award, and we congratulate him on that recognition. This is what farmers do every day. They innovate — not only for financial reasons but also because they want to use their resources in a responsible way.
I hope you will join the team at Alabama Ag Credit as we thank our farmers for all the innovative ways they provide for us every day.

Douglas Thiessen
Chief Executive Officer