A Letter From the CEO
Alabama Ag Credit's Commitment Remains Clear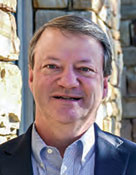 Were you one of the people who said you couldn't wait to get past the year 2019? Well, you got your wish. The year 2020 came, but with it came COVID-19. Immediately, I bet the yearning for 2021 began.
Throughout this past year, the pandemic has led to so much change. We learned to use terms like social distance, wear face masks, work remotely and conduct virtual meetings. We saw some businesses close and a general economy basically come to a screeching halt. Our schools at all levels changed in ways we never imagined in order to keep students safe. All because of COVID-19. Life changed and changed a lot in a short period of time.
But, many of our customers never missed a beat. Agricultural producers kept working every day. After all, there are no days off for those who provide our food and fiber. The food supply chain did face its difficulties, but grocery stores remained stocked and restaurants supplied because of the resiliency of those in agriculture. Many producers even found new ways to meet consumer demands by selling locally or at farmers markets.
The team at Alabama Ag Credit never missed a beat either. When the national emergency was announced, our team was ready and prepared to work remotely as necessary with the tools to communicate effectively. Our doors may have been locked, but we remained open to our customers every day via phone, email and by appointment. We never stopped fulfilling our mission of supporting agriculture and rural communities.
If we learned anything in 2020, it's that we must be agile and adaptable. So many things changed because of the pandemic, and yet, our team continued to demonstrate our commitment to you even in the bad times. That is what you deserve and what our cooperative spirit is all about.
I am not judging anyone who is looking to 2021 already. I too have hope for a better tomorrow and long for the day when this pandemic is gone. But when it is, we will have other problems to face, and sometimes, we simply need someone to walk alongside us through any circumstance.
As we enter 2021, I challenge us all to walk alongside others as they navigate this journey called life. The pandemic may or may not be gone, but we all need to know we have a friend and someone who will support us when life gets hard. And the commitment from Alabama Ag Credit is that we will be there to walk alongside you too.

Douglas Thiessen
Chief Executive Officer